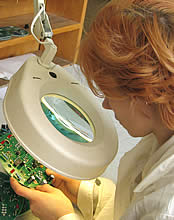 JSC ALFA has the up-to-date equipment for :


Automatic in-line optical inspection


In-circuit test / functional test


We perform 100% inspection and all appropriate ESD precautions are adhered to when handling hardware. All ALFA customers appreciate the thorough quality control procedures that are in place to ensure their orders are produced correctly and on time. Quality inspections are performed at receipt of materials, in-process and after the job is completed.

With the increasing miniaturisation of components in electronic assembly, previous methods of inspection using the naked eye can prove to be unreliable due to tiredness, loss of concentration etc. That's why we integrated special automatic in-line optical inspection system into our PCB assembly line. Automatic inspection eliminates errors caused by the human element when inspecting for assembly faults on a PCB. The System ensures total inspection in the process from the first to the last PCB.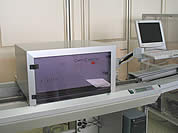 Electrical in-circuit test is intended to reveal availability/absense of an element on the board, to check its correspondence to rated value taking into consideration circuit influence, as well as to detect open/short circuits and pins, which could occur during the technological process. Test-fixture for in-circuit test we produce in-house. Type of the test-fixture - bed of nails (possible from both sides, also for SMT components). During in-circuit test all values of components and presence are checked to detect open/short circuits and pins.